The past two weekends I've made two very comfortable loungers from a current McCalls pattern that I recommend to those of you who are LARGE. It is available in sizes 18 to 32 (US). The drawing and photo of the pattern envelope, below, are from the
McCalls website
.
It is designated as a top, tunic and caftan. I am going to make a top out of this, as I found the lounger design so comfortable. I used a Minky like knit for both of the garments shown below. I made a few changes: I added an inch and a half to the top edge of the yokes to help with "warmth"; instead of a separate sleeve band, I joined it together for a single piece sleeve; instead of the side slits, I sewed the entire side closed. In the second garment, I raised the bottom of the front yoke slit by two inches. I did not make any other pattern adjustments - no FBA. I completed a
Pattern Review
, which you may want to consult if you consider sewing this pattern.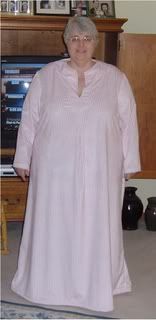 The result of these changes are two nice warm comfortable garments for our cold cold winter here in Ohio.